Prioritizing Change
Lansing DevOps Meetup
October 1st, 2019
Brendon Thiede
DevOps Engineer
Chaser of shiny things
Shaking things up since '98
What is Change?
Cultural
Capabilities
Features
Revolution
Evolution
Top Down
Bottom Up
Maslow's Hierarchy of Needs
Development Needs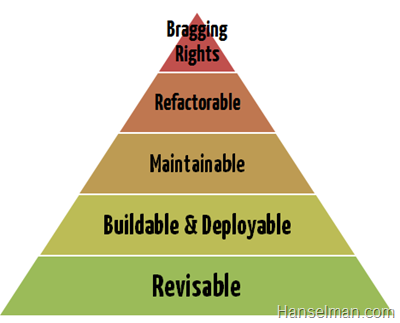 https://www.hanselman.com/blog/MaslowsHierarchyOfNeedsOfSoftwareDevelopment.aspx
Service Level Needs
https://sre.google/sre-book/part-III-practices/
WSJF
SAFe:
(value + time criticality + risk reduction + opportunity enablement) / job size
Simplified:
importance / effort
Other Considerations
Capabilities/Maturity
Risks/Legal Responsibilities
Tolerance/Flexibility
Industry Trends/Developments
Meet the Hipster
Bleeding edge
Support is a secondary concern
Not concerned with the contribution base
Meet the Hater
Resists learning new paradigms
Can't imagine a better way
Only sees risk in early adoption
Meet the Hoarder
Always running a PoC
No framework for experimentation
No follow up or sunsetting
Be the Hero
Use a decision framework
Start with a hypothesis and make it testable
Focus on impact/value constraints
Have a whole-life plan
Minimize batch size
The Real World: Example 1
Source Control
Capabilities?
Risk reduction?
Implementation cost?
The Real World: Example 2
Microservices
Capabilities?
Risk reduction?
Implementation cost?